Makai's Wish Box
Makai, 3, has leukemia and received a Wish Box recently! A Wish Box is given to children aged 3-5 to spark some imagination for their wish.

Donate $500 today to provide an e-Wish Box like Makai's today.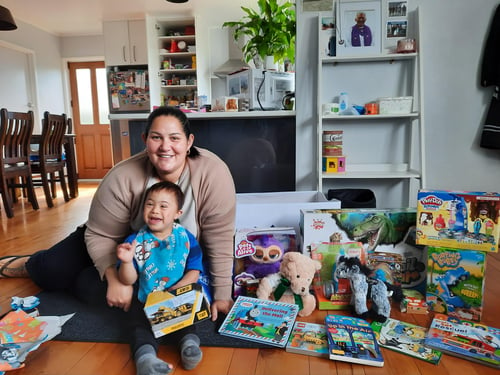 Our friends at Disney have launched a magical festive campaign sequel, 'From Our Family To Yours', in support of Make-A-Wish. It includes the launch of a new brand advert "The Stepdad", an animated tale about the power of family togetherness and storytelling. Following the success of last year's campaign, "The Stepdad" introduces a now grown-up Nicole, and her two children Max and Ella, as step-dad Mike moves into their family home. At the heart of the story is a very special storybook - a precious item belonging to son Max from his birth father. The book deepens the family bonds as magical stories lift off from the pages igniting their shared imagination and wonder.
Help out a wish child these Holidays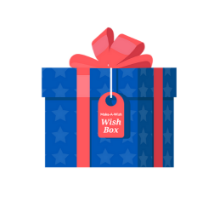 A Wish Box is given to critically ill children aged between 3-5. For children under the age of 5, it can be difficult for them to understand the concept of a wish. These children receive a Wish Box to help spark their imagination and give them time to discover what they will want their wish to be. For $500 you can provide an e-Wish Box to a critically ill child today.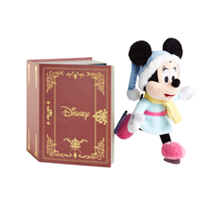 As part of the campaign, Disney will give support worth more than $2m to Make-A-Wish International and our network of Affiliates around the world. The support, made up financial donations, media value and gifts in-kind will help us step closer to achieving our vision, to grant a wish for every eligible child. A Skating Minnie Mouse soft toy and Journal inspired by the short, is available to buy exclusively at shopDisney.
Santa Run for Wishes - Something Powerful
Summer BBQs, days at the beach, nights at the batch we're all looking forward to an amazing holiday period. Why not get your summer crew together and sign up for the first-ever Santa Run for Wishes! Join Lachlan and Zoomie - walk your dog, go for a walk or run plus win prizes for most funds raised or best picture.

What do you need to know about the Santa Run for Wishes? An online event where you can walk or run with your family, friends, and fur babies in support of Make-A-Wish NZ. The race starts at 12.01 am on 1 and finishes on 12 December, you can challenge yourself to unlock milestones from 3km - 50km. Collect all 5 e-badges, and fundraise to make wishes come true along the way! Prizes for best photo's, top fundraisers and more
'Love Runs Deeper' Music Single
Two-time Grammy Award-winning jazz musician Gregory Porter performs a soulful and emotive rendition of original track 'Love Runs Deeper' – written for the Disney advert. Written by LA-based songwriters PARKWILD, the track features singer CHERISE, who is a member of Tomorrow's Warriors, an organisation committed to increasing diversity and equality across the arts through jazz music. Love Runs Deeper' will be available for sale and download from 3rd November 2021. For every download before 31st December 2021, 100% of the proceeds from the retail price will go to Make-A-Wish International to help grant life-changing wishes. For terms and conditions please visit www.thewaltdisneycompany.eu/fromourfamilytoyours